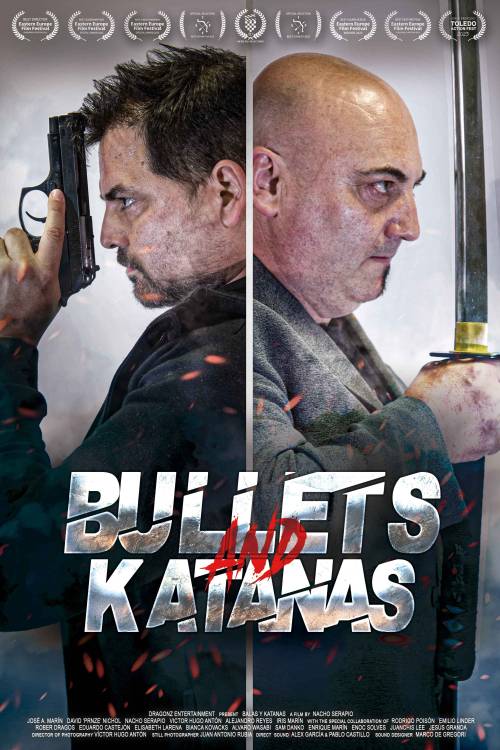 Bullets and Katanas
Action, Comedy, Featured, Non-USA |
92' minutes
|
2023
|
4K
|
Spain (in Spanish with English subtitles)
---
Synopsis
How would you react if you were a martial arts expert, had a katana in your hand, and your daughter had just been kidnapped?
Sensei Marín begins a desperate race - in real time - to rescue his kidnapped daughter.
Bullets and Katanas is a crazy, cheeky and unique movie with a full immersive experience for the viewer. The first 50 minutes is shot in real time - shot in one take - in which the viewer accompanies the protagonists in their quest.
The second half is shot in the purest style of classic Hong Kong cinema of the '80s with plenty of nods to the genre, cameos and tributes.
---
Cast & Credits
Cast:

José A. Marín (World Katana Champion)
Nacho Serapio (9x World Martial Arts Champion)
Rodrigo Poisón (The Man From Rome / Las Villamizar)
Emilio Linder (The Rift)
Elisabeth Larena (Cross the Line / La que se avecina)
Roberto García (Money Heist)

Crew:

Directed by Nacho Serapio
Writers: José A. Marín & Nacho Serapio
Director of Photography: Victor Hugo Antón
---
"…perfectly coordinated with the sole intention of entertaining" - Film Combat Syndicate
"A good movie that uses defects as a weapon and vehicle to have greater empathy with the characters." – Ronin Cine Asiatico
"This is one of the most creative and unique films I've ever seen." - Phil Gorn, Wonderphil Entertainment